Workshops
FCFull Conference Pass (FC - All Days)
FC1Full Conference Pass (FC - 1-Day Only)
BCBasic Conference Pass
ExExhibits Only
ETElectronic Theater Ticket
RTReception Ticket
Title
Wearable 6-DoF Wrist Haptic Device "SPIDAR-W"
Location
Kobe Int'l Conference Center, Room 402, Level 4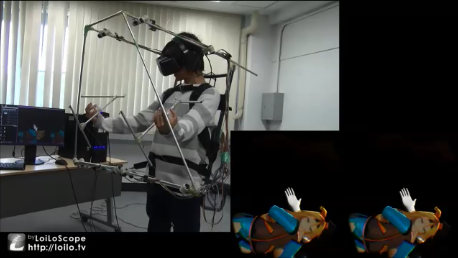 Wearable 6-DoF Wrist Haptic Device "SPIDAR-W"
In recent years, we can get a sense as if exist in the VR world by projecting a picture of the VR world in front of user's eye. Therefore, we can reproduce a virtual experience such as riding a roller coaster and searching in a virtual house realistically. On the other hand, the haptic is present as an important element in the immersion into the virtual world. This is a technique that provides the user of the reality sense of touching the virtual object. In addition to a picture of HMD, using sense of vision and force emanating from haptic device, we can interact with VR world more highly. So that a user interact an object of the VR world naturally, it is desirable that haptic device is wearable device which does not limit the movement of the user. In this paper, we develop wearable wrist haptic device "SPIDAR-W" which realize movement of catch a virtual object with both hands by giving both hands force of the user wearing HMD. This device controls the tension of the attached 8 wires to present a force of 6 DOF in respectivel hands.
Presenter(s)
Kazuki Nagai, Tokyo Institute of Technology
Soma Tanoue, Tokyo Institute of Technology
Katsuhito Akahane, Tokyo Institute of Technology
Makoto Sato, Tokyo Institute of Technology