Technical Papers
FCFull Conference Pass (FC - All Days)
FC1Full Conference Pass (FC - 1-Day Only)
BCBasic Conference Pass
ExExhibits Only
ETElectronic Theater Ticket
RTReception Ticket
Title
Meltables: Fabrication of Complex 3D Curves by Melting
Location
Kobe Int'l Conference Center, Room 501, Level 5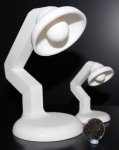 Meltables: Fabrication of Complex 3D Curves by Melting
Monday, 02 November: 15:15 - 16:00
We propose a novel approach to fabricating complex 3D shapes via physical deformation of simpler shapes. Our focus is on objects composed of joints which close to a fixed angle when heated. We present a novel algorithm that computes an optimal joint sequence while satisfying fabrication constraints.
Presenter(s)
Andrew Sageman-Furnas, University of Göttingen
Nobuyuki Umetani, Autodesk Inc.
Ryan Schmidt, Autodesk Inc.