Emerging Technologies Talk
FCFull Conference Pass (FC - All Days)
FC1Full Conference Pass (FC - 1-Day Only)
BCBasic Conference Pass
ExExhibits Only
ETElectronic Theater Ticket
RTReception Ticket
Title
Bump Ahead: Easy-to-Design Haptic Surface using Magnet Array
Date
Thursday, 05 November
Location
Kobe Int'l Exhibition Hall No. 2, Convention Hall, Level 1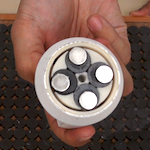 Bump Ahead: Easy-to-Design Haptic Surface using Magnet Array
We humans love to touch and feel things. In particular, children tend to touch anything because they have a great deal of curiosity. They try to feel various kinds of textures and enjoy exploring.

On the other hand, we do not have enough knowledge about our haptic ability. Especially in the computing area, the haptic input/output is still limited, even though computers can treat visual imagery and audio well. Children can draw a picture using a computer; parents can draw a picture for their children. But there are no appropriate tools at home for creating an interactive content with a rich haptic sensation.

To solve these issues, this research proposes a set of devices called Bump Ahead which is able to express an uneven sensation to the user's finger and hand. Bump Ahead consists of two parts. One is a play mat which is made of a permanent magnet array and the other is a handheld device that equips a turntable with permanent magnets. By shifting the position of the magnet in the handheld device, Bump Ahead is able to switch the bumpy sensation on/off quickly. Thanks to the use of permanent magnets, this system is smaller and cheaper than those that use electric magnets for the same purpose. Also, users can arrange the magnet array easily to suit their requirements.
Presenter(s)
Kentaro Yasu,Keio-NUS CUTE Center
Yuichiro Katsumoto,Keio-NUS CUTE Center