Symposium on Mobile Graphics and Interactive Applications
FCFull Conference Pass (FC - All Days)
FC1Full Conference Pass (FC - 1-Day Only)
BCBasic Conference Pass
ExExhibits Only
ETElectronic Theater Ticket
RTReception Ticket
Title
TheMOON - Architectural Design and Fluid Movement for Touch Based Online 3D Retail Shopping
Date
Tuesday, 03 November
Location
Kobe Int'l Conference Center, Room 402, Level 4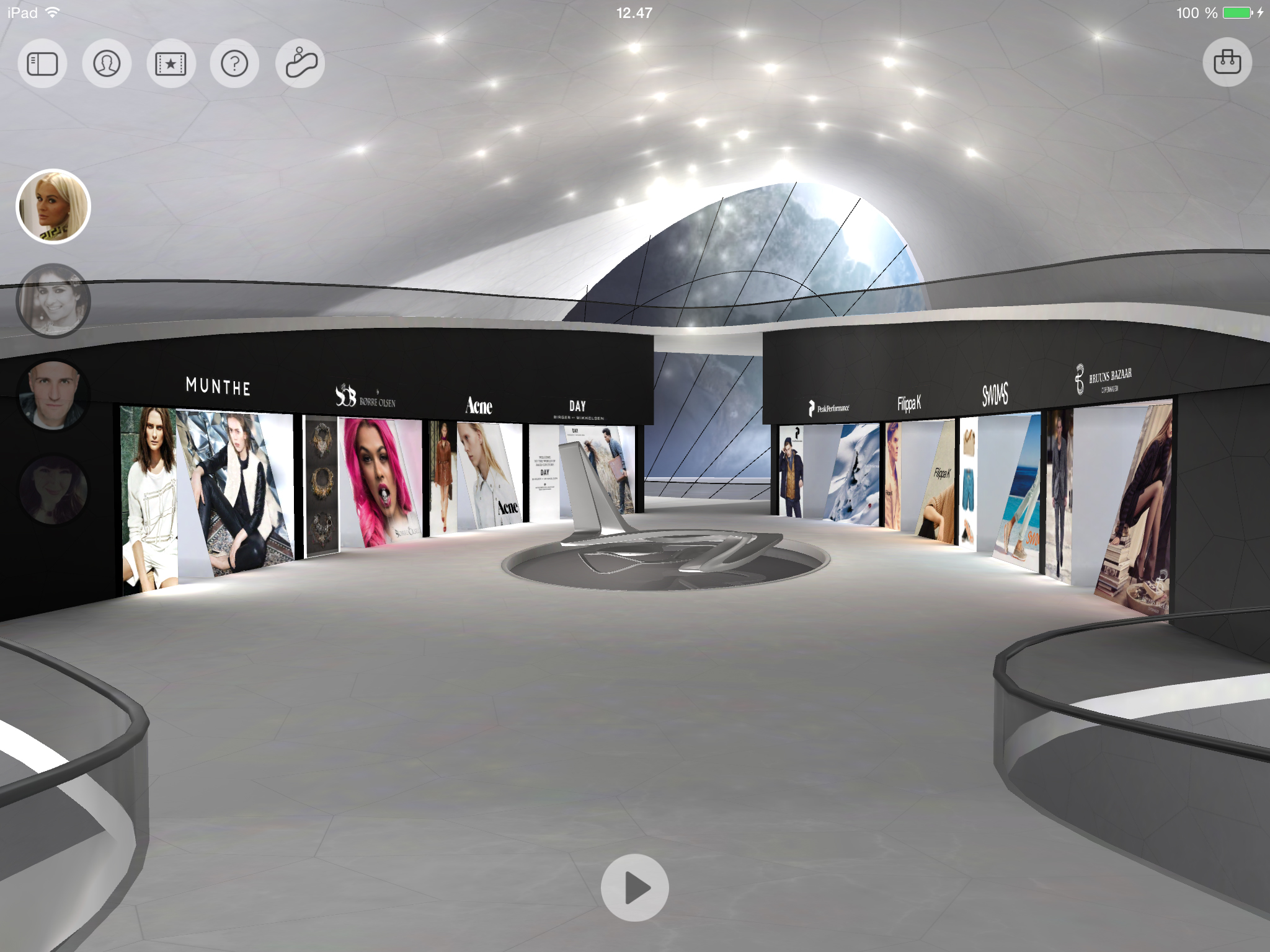 TheMOON - Architectural Design and Fluid Movement for Touch Based Online 3D Retail Shopping
TheMoon is an online 3D shopping centre featuring a simple, innovative touch-based 3D navigation and interaction user interface set in an architecturally designed virtual space allowing novice users to socialize, be inspired by brands, navigate, and shop for fashion and accessories.
Online retail shopping is a growing market opportunity and, increasingly, a real alternative to brick and mortar shopping. Current web solutions focus primarily on power shoppers who are driven to seek specific items, while the recreational shopper can find online shopping frustrating as it limits opportunistic inspiration and brand experience.
To address this, we focused on creating a visually inspiring social experience for the recreational shopper while striving for usage mechanisms that are intuitive for the power shopper and novice user. The outcome of our research was an iPad Air 1 app prototype.
Notable contributions are the semi-abstract architectural exterior which was simplified to allow easier interaction on a small display. The storefronts and store interiors visually connect with each brand identity by incorporating brand materials and design to offer a familiar and comfortable user experience.
The navigation and orientation tools use a point-and-click based system with fluid motion, allowing the user to move where they want quickly, with an autopilot allowing the user to casually stroll in front of stores mimicking real-life behavior and allowing attractive items to catch the eye and draw the user into the experience. The virtual in-store environment uses the brands' existing materials, marketing, and product photos arranged in a 3D space. The GUI has been designed to be unobtrusive, providing the 3D shopping user experience with maximum screen real estate.
Designing a resonant and visually inspiring 3D space, combined with an accessible and intuitive mobile user-experience, has provided the main development challenge.
---
Presenter(s)
Kim Baumann Larsen , Dimension Design
Thomas Wollbekk , Frost Software AS
Siggy Galaen , Blink Studios AS