Symposium on Mobile Graphics and Interactive Applications
FCFull Conference Pass (FC - All Days)
FC1Full Conference Pass (FC - 1-Day Only)
BCBasic Conference Pass
ExExhibits Only
ETElectronic Theater Ticket
RTReception Ticket
Title
Identity and Embodiment in the Virtual Reality Artwork Trio
Date
Tuesday, 03 November
Location
Kobe Int'l Conference Center, Room 402, Level 4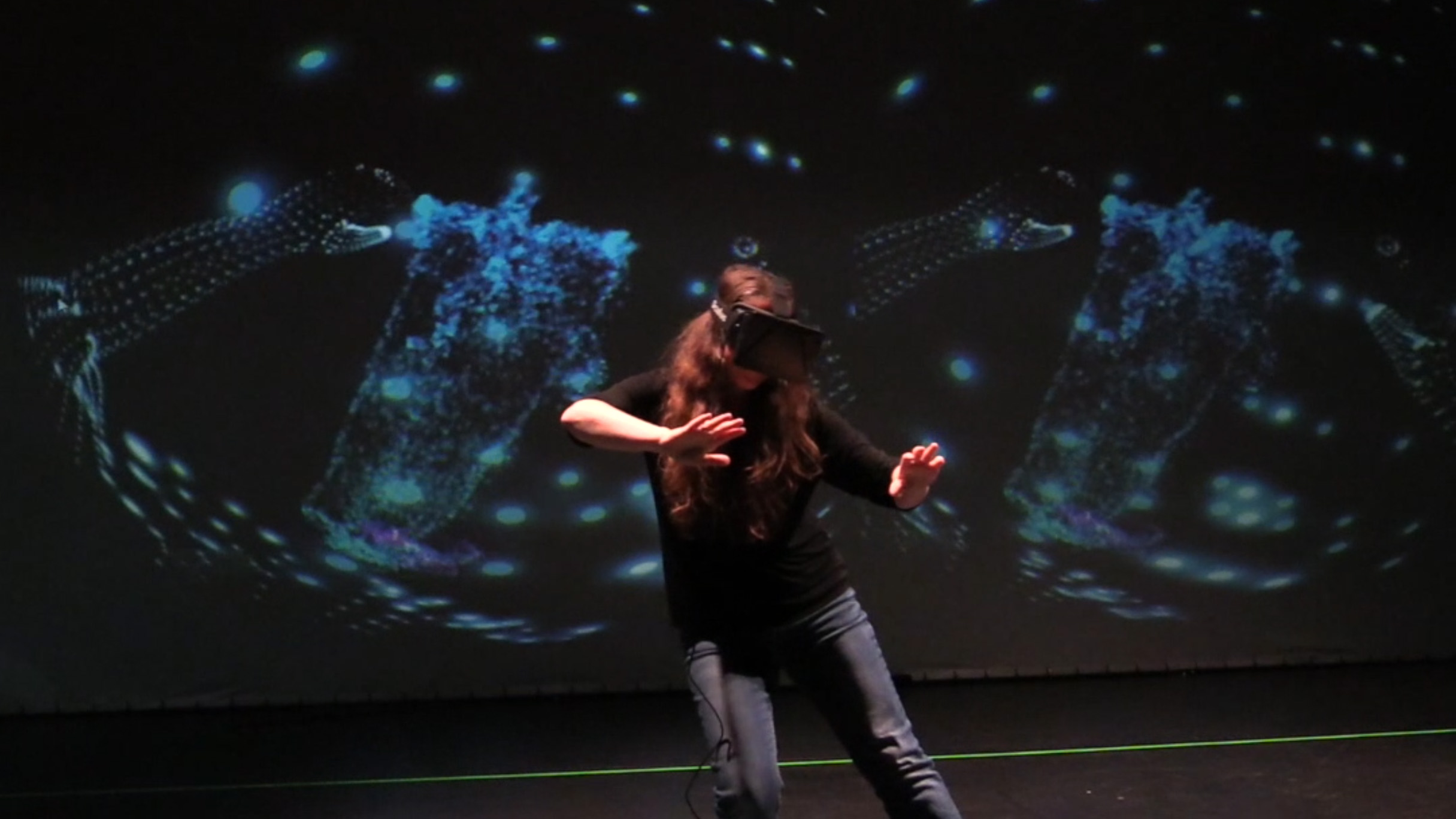 Identity and Embodiment in the Virtual Reality Artwork Trio
Trio poses questions about complex interactions that humans can have with AI and how movement becomes the vocabulary for dialogue and interactivity with a non-human other. To explore the potential of mobile VR and encourage unencumbered movement of participants, Trio utilises the Samsung GearVR platform in connection with a Kinect. Participants experience the work from two perspectives; from within the VR environment as part of a duet with the AI and from outside, where they see the next person's experience streaming live to a screen.
The AI uses motion capture to inform its movement choices, absorbing the data from the human participant to guide its own motion. The AI avatar engages in an improvised movement dialogue with the user, responding to the tracked movement, where body gestures are echoed and re-interpreted. Knowledge is attained over time using a neural network system. Through the iterative process the AI learns a language of motion from the accumulated actions of the humans, and becomes an embodied representation of that amalgamation, acting as an identity scavenger.
The Trio experience lasts five minutes. As the human generates motion vectors, she sheds the particles of her embodiment that represent complex movement knowledge and they find their way to the AI's form. The participant will perceive the gradual 'emptying' of her avatar and the 'filling' of the virtual performance partner. Once the human's avatar has 'emptied' of particles, the user is left as a disembodied observer.
When the next participant enters, the reverse happens. Those same particles are shed by the AI avatar and repopulate the new human's avatar. This is a visualisation of improvised movement interaction, exploring feelings of loss, gain, and ownership. Trio explores these relationships through non-photorealistic means, using abstraction to provoke emotional and cognitive responses.
---
Presenter(s)
Stephanie Andrews , Deakin University
John McCormick , Deakin University
Jordan Beth Vincent , Deakin University