Symposium on Education
FCFull Conference Pass (FC - All Days)
FC1Full Conference Pass (FC - 1-Day Only)
BCBasic Conference Pass
ExExhibits Only
ETElectronic Theater Ticket
RTReception Ticket
Title
"KOTOBA SHINTAI": A workshop to explore the interconnectivity between words and body movements
Date
Wednesday, 04 November
Location
Kobe Int'l Exhibition Hall No. 2 Meeting Room 2A, Level 2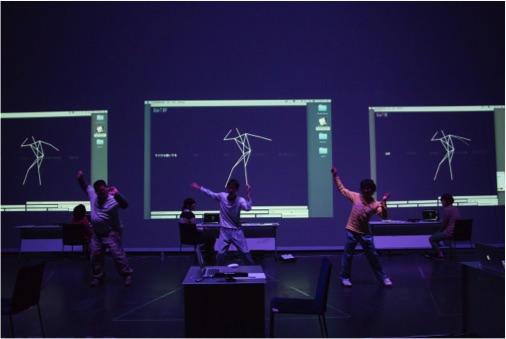 "KOTOBA SHINTAI": A workshop to explore the interconnectivity between words and body movements
"KOTOBA SHINTAI" is a workshop to discover unexplored relationships between words and body movements through unique exercises and discussions. Based on the idea of sharing differences in interpretation with others, the Yamaguchi Center for the Arts and Media [YCAM]'s educational team and YCAM InterLab, and Zan Yamashita, a choreographer, have produced the workshop with a specific interest on the interpretation of the relationship between Japanese words and the body.

At SIGGRAPH ASIA 2015, conference attendees will explore an uncultivated study of the relationships between words and body movements by expanding the workshop in alternative language (i.e. English).

Based on the idea of "recording and reproducing dance with words," the workshop discovers new connections between words and body movements. In the workshop, each participant captures his/her body movement into a computer, and tags the movement with a unique combination of words. Other participants also could label different words based on their interpretations. For example, a movement that one might think "elephant" could be labeled as "bored traffic cop" by another person. Then each participant choreographs an original dance by taking samples from the set of the movements and the words. The result is performed in front of other participants.

Presenter(s)
Kiyoshi SUGANUMA , Yamaguchi Center for Arts and Media [YCAM]
Daiya AIDA , Tokyo University of the Arts Graduate School of Film and New Media
Rie OKADA , Japan Foundation
Satoshi HAMA , Freelance
Zan YAMASHITA , Choreographer
Takayuki ITO , Yamaguchi Center for Arts and Media [YCAM]
Yosuke SAKAI , Yamaguchi Center for Arts and Media [YCAM]
Kazuhiro JO , Institute of Advanced Media Arts and Sciences