Emerging Technologies
FCFull Conference Pass (FC - All Days)
FC1Full Conference Pass (FC - 1-Day Only)
BCBasic Conference Pass
ExExhibits Only
ETElectronic Theater Ticket
RTReception Ticket
Title
fVisiOn: Interactive Glasses-free Tabletop 3D Images Floated by Conical Screen and Modular Projector Arrays
Date
Tuesday, 03 November
Location
Kobe Int'l Exhibition Hall No. 2, Convention Hall, Level 1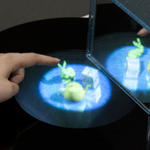 fVisiOn: Interactive Glasses-free Tabletop 3D Images Floated by Conical Screen and Modular Projector Arrays
The "fVisiOn" project provides virtual 3D media naturally alongside real media without the need for special glasses. Its design concept floats full-color 3D images of a 360°-view onto an empty, floating tabletop surface. Many people can naturally share the experience and enjoy the dancing 5-cm-tall 3D characters on the table.

The tabletop surface area is a shared space used for collaborative work. Information can be shared and exchanged on tabletops to perform tasks involving people seated around the table. Our target scenario is to support such various activities on tabletops using virtual 3D media.

Our proposed method uses a conical rear-projection anisotropic screen and circularly arranged projectors underneath the table to reproduce a 3D shape light field. The entire apparatus, installed beneath the table, is covered by a dark transparent plate. Therefore, the tabletop area remains clear and no ordinary tabletop activities are disturbed. Our method uses only static components. Because it obviates the use of high-speed components around the table, full-color animation and interactive contents are realized easily.

For ease-of-use and portability, the projector array is fabricated as combinations of several modules. The latest prototype can produce a 360° viewing area from 12 modules. Our proposed light field reproduction requires a special rendering technique that must generate over hundreds of multi-perspective images in real time. It is implemented on a popular game engine using GPU capabilities for easy content creation.

The 3D images have binocular disparity and horizontal motion parallax. Therefore, viewers can feel the existence of the virtual 3D objects as if they were actually present. However, nothing is on the table. When reaching out to touch the 3D images, viewers will experience a curious feeling.

Presenter(s)
Shunsuke Yoshida, National Institute of Information and Communications Technology (NICT)