Keynote
FCFull Conference Pass (FC - All Days)
FC1Full Conference Pass (FC - 1-Day Only)
BCBasic Conference Pass
ExExhibits Only
ETElectronic Theater Ticket
RTReception Ticket
Title
From Story to Screen: Ronnie Del Carmen's Path to Pixar And a Peek Inside the Making of Inside Out
Date
Tuesday, 03 November
Location
Portopia Hotel, South Wing, Portopia Hall, Level 1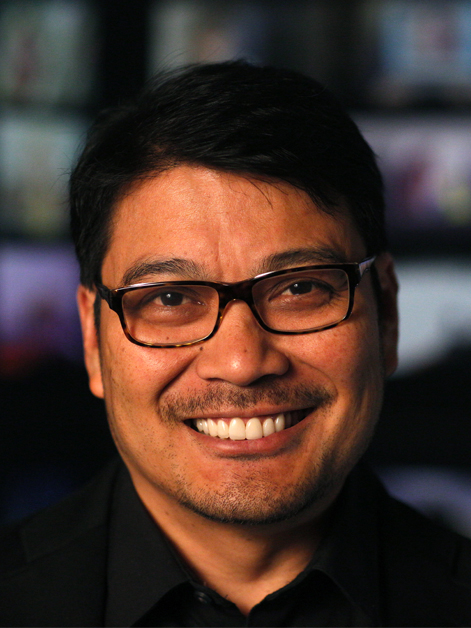 From Story to Screen: Ronnie Del Carmen's Path to Pixar And a Peek Inside the Making of Inside Out
Language(s) :
English
Keynote Session Information
Pixar Animation Studios' latest blockbuster, "Inside Out" was five years in the making. From the initial idea to the last render, Ronnie Del Carmen was there with director Pete Docter, grappling with how to tell a tale set inside the human mind. But Ronnie's own story is almost as complex, going from a childhood in the Philippines to a key creative role at one of the most successful studios in cinema. Ronnie will share his history, while also walking the audience through the intricacies of crafting an animated work of massive scale, scope and ambition. In this SIGGRAPH Asia keynote, hear Ronnie Del Carmen tell his tale from the inside out.

(Includes Opening and Awards Ceremony)
Speaker: Ronnie del Carmen
Pixar Animation Studios
Ronnie del Carmen joined Pixar Animation Studios in 2000 and has been a member of the story team on a number of the studio's feature films including the Academy Award®-winning features "Finding Nemo," "Ratatouille" and "Up" (of which he served as story supervisor). Del Carmen most recently worked as the co-director alongside Pete Docter on Disney/Pixar's original feature film "Inside Out".

In addition to his contributions to the feature films, del Carmen served as production designer for the Academy Award® nominated short film "One Man Band." He made his directorial debut with the short film "Dug's Special Mission" released on the "Up" DVD and Blu-Ray. In addition to his work on feature and short films he contributed his artistic talents to illustrating the children's book, My Name is Dug, written by Kiki Thorpe.

Del Carmen fell in love with animation at an early age while growing up in the Philippines and watched cartoons devoutly -- especially Disney's "Wonderful World of Color." The Disney films "Fantasia" and "Dumbo" also fueled his early interest in animation, which led to a varied career in art and filmmaking. Del Carmen was influenced by a variety of things: "Carl Barks" comics; monster and sci-fi films; Alfred Hitchcock and David Lean films; and illustrators, graphic designers and artists such as Bill Peet, Ollie Johnston and Mary Blair. He even lucked out on a job at the young age of 15 as a painter on the set of "Apocalypse Now," filming on location.

Del Carmen attended the University of Santo Tomas in the Philippines, where he earned his Bachelor of Fine Arts in Advertising. He went on to work as an art director for print and television campaigns in the advertising industry, but knew his heart remained in filmmaking. He moved to the United States in 1989 and worked as a storyboard artist for "Batman: The Animated Series" and for DreamWorks as a story supervisor. Occasionally he would dabble in comic book work for DC, Marvel and Dark Horse. He continues to self-publish his work.