Workshops
FCFull Conference Pass (FC - All Days)
FC1Full Conference Pass (FC - 1-Day Only)
BCBasic Conference Pass
ExExhibits Only
ETElectronic Theater Ticket
RTReception Ticket
Title
Driving Simulator Study of Driver Behavior while using Head-Up Display
Location
Kobe Int'l Conference Center, Int'l Conference Room, Room 301, Level 3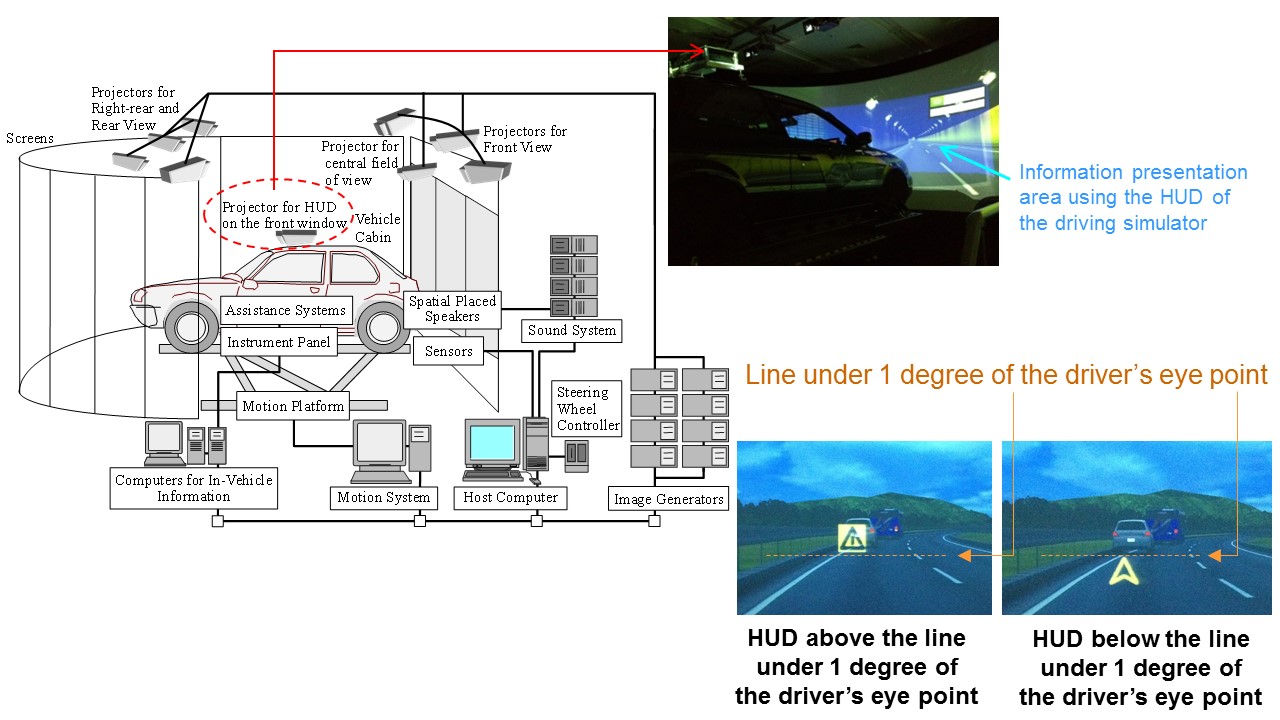 Driving Simulator Study of Driver Behavior while using Head-Up Display
Head-up display (HUD) will be on the market in the near future. The HUD will display several kinds of information on the entire windshield, although the current HUD presents speed information and route guidance at the bottom of the windshield. Drivers obtain useful information about the trips. However, the information on the full windshield may influence negatively driver's glance behaviors, including paying less attention to the movements of the lead vehicle, the traffic lights, and the road signs.
We developed HUD in the AIST driving simulator to investigate drivers' behaviors while using the HUDs. AIST driving simulator consists of a real vehicle cabin, circular and plane screens with a 300-degree field of view, a sound system with 8 spatial placed speakers, and a 6 degree-of- freedom electric motion system. The information on the HUD is displayed on the front screen using the additional projector that is mounted on the roof of the vehicle cabin. The projection range covers the entire windshield. The driver recognizes the information presented on the screen as the image displayed on the front window, because the location of the HUD changes according to the vehicle movement and vibration linked with the driver's operation.
We evaluated driver's acceptance of the HUD that is presented around the location of the leading vehicle. We evaluated the driver's attentional workload using eye-fixation-related potentials (EFRP) as well as glancing behaviors. The findings indicate that drivers pay more attention to the information overlapping the lead vehicle, and the attentional workload will be improved by the information location.
Presenter(s)
Toshihisa Sato, National Institute of Advanced Industrial Science and Technology (AIST)